---
With the Covid-19 pandemic and resultant travel restrictions, more of us than ever are planning to holiday in the UK this year. With the rise in dog ownership over the last year, lots of people will be taking a dog with them, perhaps for the first time. We have put together some top tips on travelling in the UK with your dog, to make the experience as relaxing and stress-free as possible!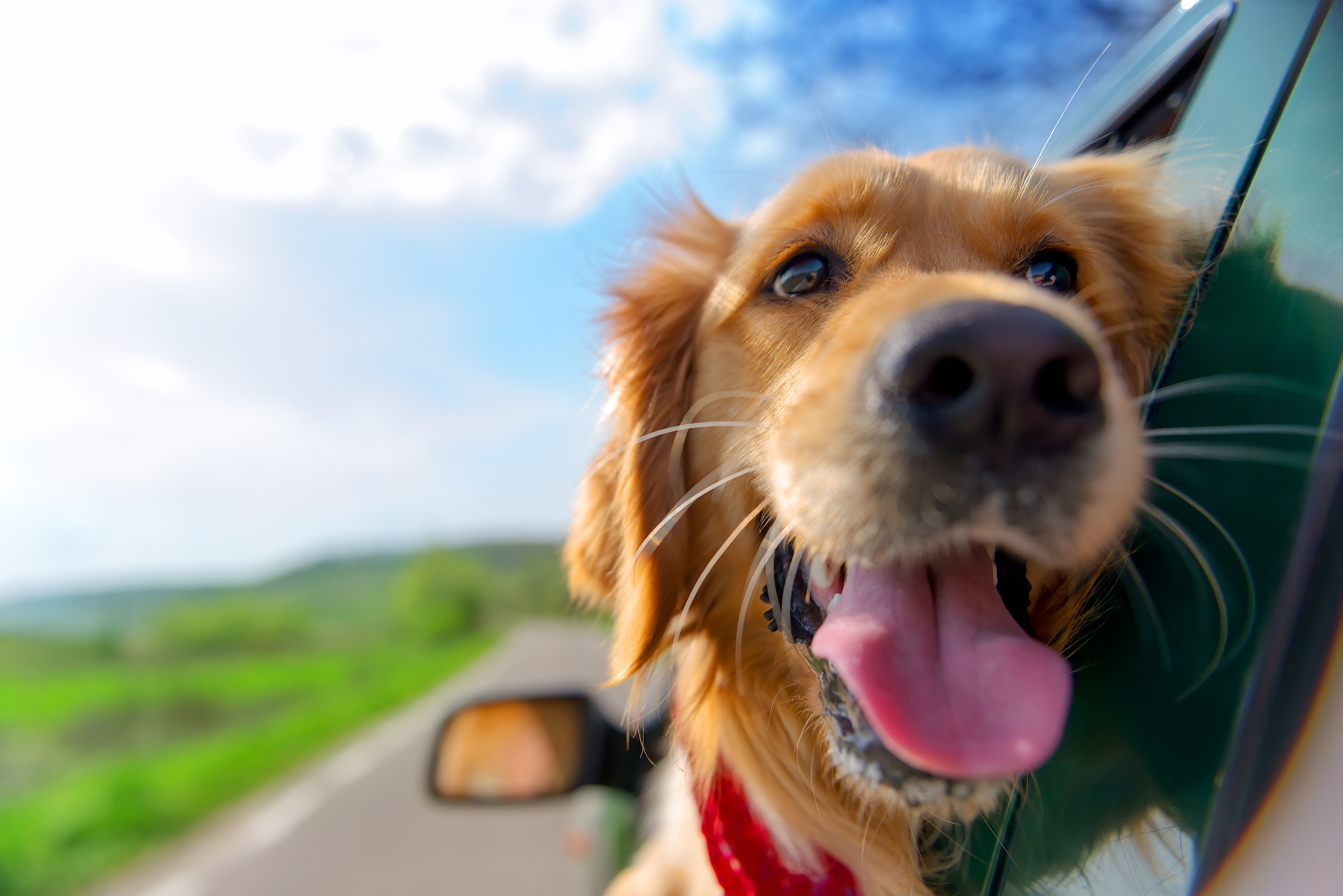 What features should dog friendly accommodation have?
This may seem obvious, but as well as simply allowing your four-legged friend to join you, the accommodation should ideally be appropriately set up for them. For instance, a garden is hugely valuable, to avoid you having to take them out for a walk every time they want them to do their business and to give them space to play. Do you need a utility space if you are coming back from muddy walks? Or perhaps a child-gate to keep them out of places where they are not allowed to go, like upstairs on the beds perhaps! There are various websites where you can search for pet-friendly accommodation.
What to pack for your dog when taking them on holiday?
Bed / blankets / crate

Food and treats

Food and water bowls (including portable one for walks)

Collar and lead (make sure you have an up-to-date ID tag that gives your mobile number)

Favourite toys

Medication

Poo bags!

Grooming equipment if needed

Towel

Vet's details (your own vets but also the local vets and out of hours provider)

Remember to download the

PocketVet

app, so that you can take a vet with you wherever you go! You will have access to consultations with veterinary surgeons, as well as the handy PlantID tool, which allows you to upload photos of plants to see if they are toxic to your dog! Very useful to check that plant you do not recognise in the garden of your holiday cottage.

Pet insurance documents

A note of their microchip number
Should I pack home comforts for my dog when taking them on holiday?
Some dogs, particularly those that are older, can find travelling an unsettling experience. Be sure to pack some home comforts that are familiar to them – this will help to reassure them when they are in new surroundings. For dogs that are particularly anxious, you could consider using a calming product such as a DAP collar or Zylkene tablets to help put your dog at ease. Talk to one of our vets about these today.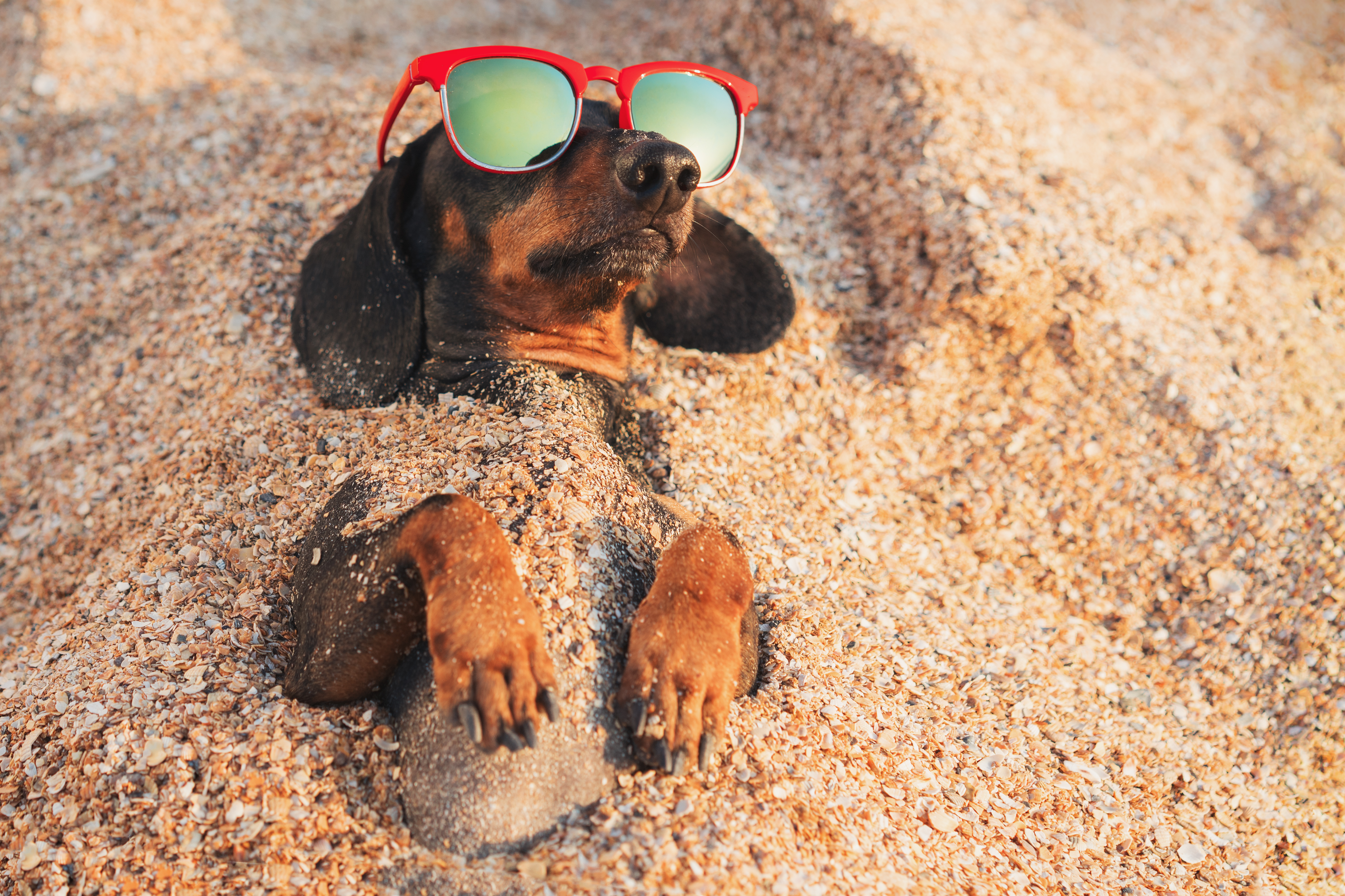 How can I make car journeys more comfortable for my dog?
Travelling by car is the most common and convenient way to travel with your dog. It is important to ensure that your dog is as safe and comfortable as possible in the car. According to The Highway Code, pets must be suitably restrained in the car so that they do not distract you, and to avoid injury to you and themselves if you needed to stop suddenly. Options for restraint include a seat belt harness, dog crate, pet carrier or dog guard.
Some dogs are much happier in the car than others, and car sickness is quite common in dogs. The following tips can help to keep them comfortable:
Use sunshades on the windows to keep the sun off them and keep them cool.

If possible, use air conditioning on hot days to keep the car cool, and remember that cool air may not circulate to the boot very readily.

Bring plenty of fresh water to keep your dog hydrated. You can also use this to cool them down if they become overheated.

Do not feed a large meal within two hours of traveling to help prevent sickness. If your dog suffers from motion sickness then speak to your vet about possible medication that can be used.

Stop regularly to allow for toileting, drinks of water and a stretch of the legs.

Give them a familiar blanket or toy to reassure them and help them feel secure.

If your dog does not regularly travel in the car then take the time to get them used to it before you go away. This will pay dividends when you embark on your holiday!

If you travel with your dog on the front seat, then turn off the passenger airbag to avoid them being injured if it goes off.
We hope that you find these top tips useful, and we wish you a very enjoyable staycation with your four-legged friend!
---