---
Seeing a vet online can be confusing to many people, simply because it does not seem possible. How can you get high-quality vet care for your pets without actually having to see someone in person? Is it possible to get your dog, cat, guinea pig, rabbit, or any pet for that matter checked out without never actually leaving the house? The answer is yes! Online vets are just as useful as an in-person vet, and you could actually save yourself a lot of time and money by using one. In this article, we will explain exactly what an online vet is, and what they can help you with.
What does telemedicine mean?
In general, away from the world of pets and vets, telemedicine is the name given to remote diagnosis and treatment of patients. Telemedicine is used to provide longer-distance information through electronic means such as online chats and video calls. Telemedicine is an incredibly useful field as it provides access to help for people that need it, wherever they may be. Telemedicine is only going to become more popular as technology advances and more and more people will be looking to get all sorts of information online through virtual consultations.
What is telemedicine for pets?
Telemedicine, however, does not need to be all about human medicine. In fact, veterinary medicine can absolutely take advantage of telemedicine and the technology around it. At PocketVet, we provide online vet consultations for your pets at your leisure. No need to book in, get your pets stressed, struggle to get them into the car to drive to the vets, all to be charged insane amounts. With an online vet, you simply need to sign your pet up and request a consultation as and when you need it, all for the fraction of the price you would be charged when visiting a vet in person.
What are the advantages of using an online vet?
Using an online vet brings many benefits to not only you and your wallet but also your pets and their well-being. Here are some of the benefits that you could experience by choosing to use an online vet the next time you need some help.
Many times, when you think something is wrong with your pet, you just want some reassurance from someone that knows what they're talking about. With an online vet consultation, you don't need to stress your pet out taking them to a vet, simply chat to one online and get the reassurance you need.
Even if something is not wrong with your pet, taking them to the vet can be a very stressful situation. By using an online vet you don't need to worry about stressing your pet out by getting them into a carry case or a car.
Online vet services are incredibly convenient. By using an online vet you do not need to worry about making an appointment, or having that appointment cancelled for a wide number of reasons. You simply need to pick up your phone, tablet, or computer and get online.
What are the drawbacks of an online vet?
There are also some drawbacks that can come with having an online appointment with a vet. Here are some things to consider:
Your pet may need further testing beyond an online vet consultation. Sometimes, an online vet will not be able to provide you with answers without physically seeing your pet, in these cases an in-person appointment will be needed.

Vaccinations need to be given in person. Your pets will often need vaccinations routinely, or because you are going travelling. This can only be done in person, and cannot be done by an online vet.

Your online vet can't provide a definitive diagnosis of your pet's issue without doing a physical examination of your pet. Some conditions are unable to be properly diagnosed without actually looking at your pet physically.

Online vet consultations are not suitable if your pet has serious emergencies. For example, if your pet is suffering from severe bleeding, seizures, urinary issues, exposure to toxins, or difficulty breathing, it is more appropriate to take your pet to an in-person vet for immediate assistance.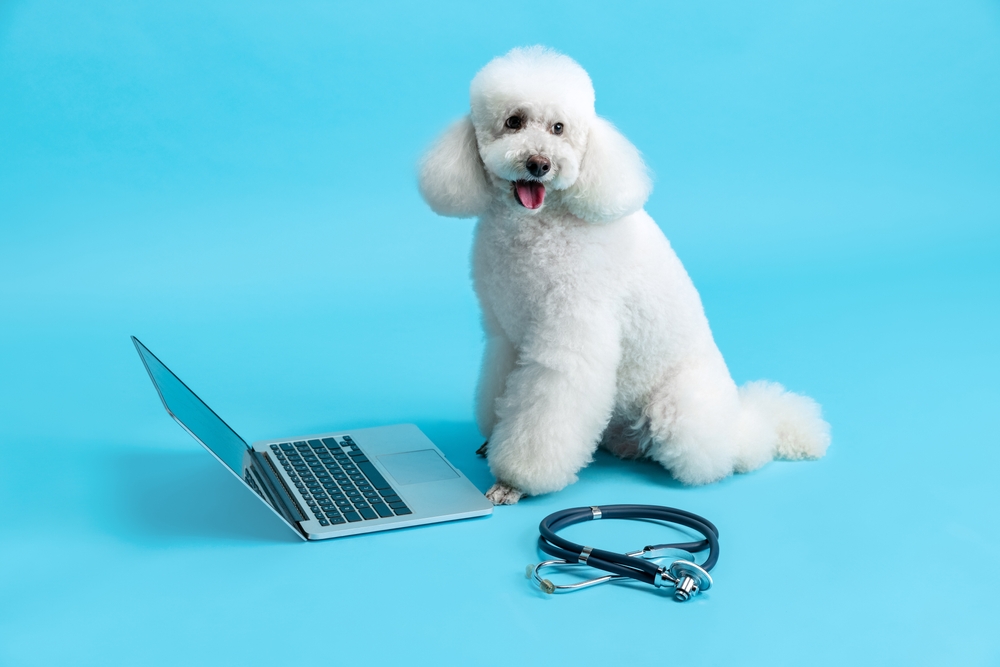 What can an online vet do?
You may be concerned about what an online vet can actually do for your pet considering they cannot actually perform a physical examination on your pet. Actually, your online vet can perform a wide amount of different services simply by talking to you and getting you to answer some questions. Some questions you may have around this include:
Can an online vet give me advice on pet nutrition?
Yes, they can. This is one of the biggest things an online vet can do for you. Many times, changes to diet can completely change your pet's well-being. If you speak to an online vet about your pet's diet, they will be able to provide you with excellent advice regarding changes, or reassure you that what your pet is having is appropriate for their condition.
Can an online vet give me advice on pet behaviour?
This is another major area of concern that some pet owners have. Many vet trips will be simply to discuss a change in pet behaviour. Behaviour is something that an online vet will simply need to discuss, and they will again be able to provide excellent advice as to why your pet may be behaving in certain ways.
How can I prepare for a virtual vet appointment?
To best prepare for your virtual vet consultation, you should ensure that you are ready to answer questions regarding your pet clearly and with plenty of information. Also, you may need to provide a urine sample and test result from a Hygiecatch testing kit. This is quick and easy to do, and will give the online vet plenty of information they require regarding your pet's condition.
Sources
https://pawzy.co/blog/health/when-should-you-use-an-online-vet
---